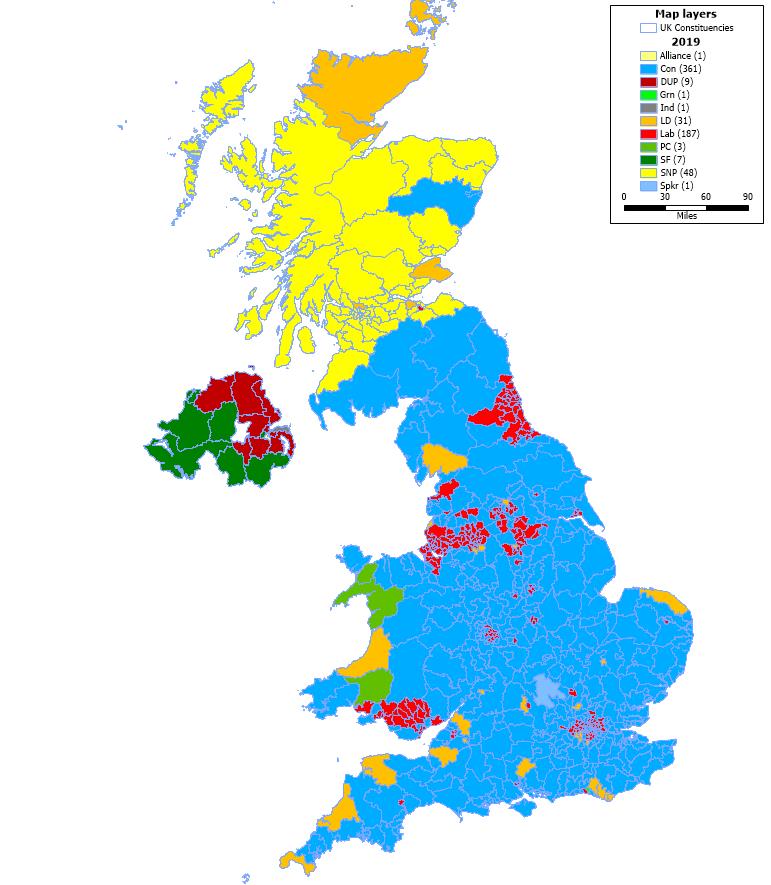 Politics has always been dynamic. MP's resign, by-elections take place and General Elections wipe the slate clean.
But I can't remember anything like the turmoil we have experienced in the last few months – or about to experience over the next 6 weeks!
Why does this matter to a company who specialises in all things Postcode? It's a fair question.
The answer is that we have key Government & Public Relations clients who rely on our data to determine which political party and MP individual Postcodes belong to. As new Postcodes are continually introduced or removed by Royal Mail, the data is updated on a 3-month cycle to ensure all Postcode and Parliamentary information is as up to date as possible.
But the changes to the political landscape in the last few months is unprecedented when a General Election hasn't occurred.
We ordinarily only observe 2 or 3 by-elections in a 3-month period resulting in a new MP representing that seat in the House of Commons. But the 3 months between 1st July and 30th September 2019 brought changes to 36 Westminster Parliamentary Constituencies.
Defections, Resignations and Withdrawn Whips
Much happened between 1st July and 30th September. After the failure of Parliament to agree the EU Withdrawal Agreement negotiated by Theresa May's Government, the Conservative leadership race resulted in the appointment of Boris Johnson as Prime Minister with a new cabinet.
Thus started one of the most chaotic periods of UK politics I can remember.
Whilst only one Parliamentary Constituency acquired a new Member of Parliament during this period (Jane Dodds of the Liberal Democrats won the Brecon and Radnorshire by-election on 1st August 2019), a further 35 constituencies retained their MP but with a different political party.
As a result, over 3.7 million people (over 6% of the total population) found that the party that won in their constituency at the 2017 General Election no longer held the seat.
A full list of MP changes we implemented in our data during this period can be read here but in summary the extent of the changes was as follows:
 Fig 1: Change in Westminster Parliamentary Constituency seats 1st July to 30th September 2019
The reasons were many:
The Government withdrew the whip from 21 Conservative MP's for rebelling and voting to block a no-deal Brexit,
Change UK officially changed their name to 'The Independent Group for Change',
Dr Phillip Lee and Sam Gyimah defected from the Conservatives to the Liberal Democrats,
Independent MP's joined the Liberal Democrats; and
Two Labour MP's resigned
And just as the dust settles following this period of Parliamentary musical chairs, a General Election is scheduled for Thursday 12th December.
 Predicting The 2019 General Election
Whenever a General Election occurs, we try to anticipate the results in order to assess the extent of changes that may affect our products and services.
However, this Election is a little different for a few reasons:
This is the first Election that Boris Johnson will contend as Prime Minister.
It is an election that will be fought not just on domestic policies – Brexit is front and centre of all the party's manifesto's.
The Brexit issue adds another complication: it is unlikely to be straight contest between all parties. Already back room deals are being struck to maximise both Pro- and Anti- Brexit parties' chances of winning each seat.
And where multiple parties stand in a constituency, a wealth of tactical voting information has been made available to help voters determine which party to vote for to get the Brexit result they want.
In an attempt to understand how the political landscape may change after the 2019 General Election, we turned to the clever chaps at Electoral Calculus who have used quantitative analysis and modelling to predict the outcome of the 2019 General Election.
At the time of writing (19th November 2019), the prediction is a Conservative majority of 72 with the key net gains and losses as follows:
| | |
| --- | --- |
| Party | Net Gain/ Loss |
| CON | +43 |
| LAB | -61 |
| LIB | +7 |
| SNP | +11 |
Fig 2: Key predicted gains and losses at the 2019 General Election. Data from Electoral Calculus, with permission.
We have compared this prediction to the results of the 2017 Election in the maps below:

Fig 1: Results of the 2017 General Election.
Fig 2: Predicted Results of the 2019 General Election. Data from Electoral Calculus, with permission
Geographically, the prediction is for strengthening of the SNP in Scotland at the expense of the Conservatives but then similar advances of the Conservatives in England at the expense of Northern Labour seats.
Of course, these predictions will shift continually as new polls are taken, electoral deals are struck between parties and tactical voting information develops.
With accurate predictions proving difficult - to say the least - the result of the 2019 General Election could easily be anything from a hung parliament to a Conservative landslide!

Update Timescales
We provide a number of products and services which will be impacted upon by the 2019 General Election on the 12th December.
- Our base Postcode to Westminster Parliamentary Constituency database
- The automated Postcode to Westminster Constituency matching Excel spread sheet.
- Bespoke matching services where we match customer Postcode lists to a wide range of related data including Westminster Parliamentary Constituency information.
With the results of the General Election on the 13th December, we anticipate approximately 1 weeks work to capture the results of the election and implement them into our various products.
We are therefore targeting release of our update date by Friday 20th December 2019. Obviously, this is very close to Christmas so the worst case scenario would be that the data would be available from Monday 6th January 2020.
If you have any queries about the information in this article or about our products and services, please let us know.