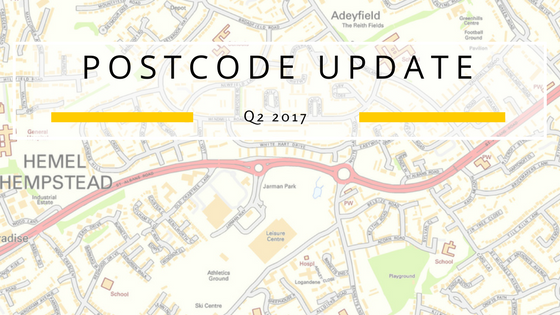 The latest updates to our Postcode data lookup and database products are now available and we are offering a
25% discount to all databases
for a limited period - see below for details..
---
Parliamentary Constituency Data & The 2017 General Election
The latest Parliamentary Constituency data includes all the latest Postcode changes and the status of MP's and Parties following the General Election on 8th June 2017.

These changes are included within the following data products:
The Postcode to Parliamentary Constituency Lookup Data >
The Postcode to Parliamentary Constituency Automated Matching Excel Spread Sheet >
---
 Postcode Lookup Data & Excel Apps
View the range of Postcode lookup databases which have been affected by the latest Postcode changes plus our Royal Mail PAF databases here >
We also have a range of Excel spreadsheets designed to automatically tag your Postcodes with associated data. You can find out more about these latest Excel Apps by clicking here >
---
25% Off Postcode Data Until 31/07/2017
For the month of July, you can get 25% off any of our data products by using the code AB11 when checking out.
---
How Do Updates Affect Postcode Products?
Changes to Postcodes have a direct impact on a whole range of Postcode based products which must be updated to reflect the ever-changing Postcode landscape. Here are some examples of how Postcode changes may affect you:
If you use Postcodes for Business Analysis
Look up tables which relate Postcodes to other information such as Parliamentary Constituencies, Local Authority Information, Grid References must all be updated to ensure the analysis of Postcode related records and information is accurate and up to date.
In addition to updating the Postcodes themselves, we also take the opportunity to update all the related information such as MP names, Ward names and so on to ensure these references are also current.
If you use Postcodes for Address Management
Sometimes existing Postcodes do change for households and people move in to new build homes with brand new addresses and Postcodes. Companies providing services or delivering products to these homes need to ensure their systems are up to date to capture and update these new addresses.
Our Royal Mail PAF databases are therefore all updated to reflect the latest Postcode changes and help companies keep their customer data accurate and up to date.
If you use Postcodes for mapping Sales Territories or Franchise Areas
Changes to the Postcode system can also impact the Postcode boundaries themselves which are widely used in GIS and mapping software such as MapInfo, ESRI and Intergraph products for a range of business tasks including mapping sales territories and planning franchise areas.
New Postcodes can change the Postcode structure geographically and we meticulously review these changes to ensure all our digital Postcode boundary files reflect these latest changes.
The next Postcode update is expected to take place in September 2017 but if you have any questions on the latest Postcode changes and how they may affect you please contact us.